Over the years I have tested my fair share of natural cleaning products. I know many have a hard time switching their cleaning products because they want something that not only cleans but also disinfects. And let's face it, not all natural cleaners are actually as effective as we would like. Here's the good news…I have found a cleaner that works, disinfects and isn't going to bring toxic chemicals into your household.
*Affiliate Disclosure: I do have affiliate links in this blog post. If you purchase something from my link, I will receive a small commission from the sale. This comes at no cost to you, but is paid by the company. I do not take becoming an affiliate with any company lightly. If I am, it's because I believe in the company and their product.
What is Force of Nature Cleaner?
Force of Nature uses just three ingredients to create a nontoxic multipurpose cleaning solution that is not only tough on grime, grease and soap scum, but it is also an EPA hospital registered disinfectant that kills 99.9% of viruses and bacteria.
Sounds almost too good to be true, am I right? So, let me explain how something that is nontoxic can also be so effective.
The three ingredients they use are tap water, salt and vinegar.
I am no chemist, but how it is explained by Force of Nature is that you place all 3 ingredients in the electrolyzer. The electricity breaks down the water and salt molecules so that their elements can form 2 new ingredients: hypochlorous acid and sodium hydroxide. It is the vinegar that makes the environment ideal for this to happen by keeping the pH at just the right level.
With these 2 new ingredients you now have a cleaner that not only will break down dirt and grime, but also disinfect! To better understand this, here is what these new ingredients can do:
This acid actually exists in our bodies. It is created by white blood cells as a defense against infection, bacteria, and invading pathogens. It works by breaking down the cell wall and then destroying the invaders. It can disinfect as effectively as bleach but without any unwanted toxins or fumes! It is so effective that even hospitals use it as a disinfectant.
A highly versatile detergent that has many uses when used at different concentrations. In Force of Nature its function is the cleaner and degreaser. It can also be found in other products like toothpaste, moisturizers, pharmaceuticals, other cleaners and it is used in food production and water treatment. The concentration level of sodium hydroxide in Force of Nature is 0.0000003%. Compare this to other all-purpose cleaners, that typically have concentration levels from 1-5%.
Related Content: Branch Basics (Tested + Reviewed)
Force of Nature Starter Pack: What does it include?
The Force of Nature starter kit will come with everything you need. It includes the electrolyzer appliance and power cord, a 12 ounce reusable spray bottle, 5 activator capsules, and the user manual.
The cost of the start kit is a little more spendy due to needing to purchase the electrolyzer appliance ($74). But the great news is that this appliance has lasted me all 3 years that I have used Force of Nature – I have yet to need a new one! And, I typically make one bottle of cleaner per week, so we are definitely using it alot.
The great news is I have a coupon code to make getting started with Force Nature more affordable. While my coupon code doesn't apply to the Starter Kit, it does work on any of the bundles. The Extra Value Bundle is originally $92. It contains 20 more activator capsules than the Start Kit and with my code you can get for $55.20!
Shop all Force of Nature here and use code GURLGONEGREEN40 to save 40% off their bundles!
What is the cost of Force of Nature per ounce?
Once you have invested in the initial start up cost of Force of Nature, the cost is much more affordable. From Force of Nature's website:
"The cost for the multi-purpose cleaner, deodorizer, and EPA registered disinfectant you make is only $.09 per ounce, which saves you up to 80% on every ounce vs brands like Clorox Clean-Up, Seventh Generation Disinfectant Spray, Windex Glass Cleaner, Lysol Disinfectant Spray and Scrubbing Bubbles. Force of Nature works on virtually any surface in your home – a major multi-tasker at a great value!"
Is Force of Nature any different than homemade cleaners with vinegar?
Yes! Vinegar is not registered as a disinfectant by the EPA. Even if you are using undiluted vinegar to clean with, it isn't strong enough to disinfectant against the same microbes that Force of Nature can. Plus, vinegar solutions can't be used on the same surfaces that Force of Nature can be used on.
Does Force of Nature really disinfect?
Force of Nature Cleaner is a disinfectant. If you aren't familiar with the EPA (Environmental Protection Agency), this group's mission is to protect human health and the environment. They regulate any claims that are made by disinfectants through marketing or on product labels. It is the EPA that ensures a product can actually kill the pathogens that it claims it can through a registration process.
Force of Nature is on the EPA's N List. Any product on this list is expected to kill all variants of SARS- CoV-2.
Of course, Force of Nature does far more than just disinfecting against SARS-CoV-2. Other pathogens that Force of Nature can disinfect against include Staph, MRSA, Norovirus, Influenza A, Salmonella, Pseudomonas and Listeria.
But what you need to know is that to disinfect, you need to use it properly. In fact most commercial disinfectants require similar application to actually work. When using Force of Nature as a disinfectant you will want to do the following to ensure it actually works:
First you will need to pre-clean the surface (hard, non porous) to be disinfected so there is no dirt or grime. This ensures the Force of Nature Cleaner can come in contact with 100% of the surface.
Spray the entire surface with the Force of Nature Cleaner until wet.
Let sit for 10 minutes.
Let air dry or wipe down.
Related Content: Best Natural & Non Toxic Laundry Detergents
How exactly do I make the Force of Nature Cleaner?
It is literally so simple to make the cleaner!
Add water to the fill line
Plug in the power cord
Add the activator
Push button and wait for the electrolyzer to turn green
Pour into the spray bottle and clean away!
Check out my Instagram Reel here to see how easy it really is!
What surfaces can Force of Nature be used on?
With Force of Nature containing vinegar, many want to know what surfaces it can be used to clean. If you are using a vinegar based clean you will want to avoid using it on stone countertops (granite, onyx, marble, limestone, etc) because it can etch and dull the stone making it lose its shine. Vinegar solutions should also be avoided on window seals, unsealed grout, many hardwood floors, tile flooring and more.
Force of Nature, on the other hand, can be use on nearly any surface, including those that a vinegar based cleaner can't due to the chemistry changes that happen when the solution is electrolyzed. Per Force of Nature's FAQ's, Force of Nature can be used to clean and sanitize the following:
counters (including sealed stone like granite, marble, quartz, wood, laminate), glass, appliances (including on stainless steel), your baby's high chair tray & cutting boards, all your bathroom surfaces including grout, tile, sealed marble, porcelain, glass and high touch areas like doorknobs and faucets, diaper pails, changing pads, and baby toys, kitty litter, pet toys, bedding, even pet accidents on rugs (always spot test first)
So, obviously, that leaves the question: what shouldn't Force of Nature be used on?! First, Force of Nature shouldn't be left to sit on soft metals like brass or copper over time. So while you can use it on those surfaces, you will want to make sure you rinse with water or wipe until completely dry.
Force of Nature doesn't contain whiteners. So that does need to be considered when using it on porous surfaces with rust or water stains, as it won't remove those. But, this is also why it is typically safe on most carpets and rugs (again, always spot test first).
Lastly, Force of Nature doesn't contain any evaporating agents. Thus when using on glass you will want to wipe until completely dry. I use a polishing cloth and it works great!
My Review on Force Of Nature Cleaner After Using It For 3 Years
So excited to finally share a full review on Force of Nature. I've been using it now for 3 years and LOVE it! Like with anything the more you use it the more you know what you love about it.
For starters I love that I can use it for anything- literally anything! From bathrooms, to kitchens, floors- anything. Since it's made with only 3 food grade ingredients I feel safe having my kids use it too. My daughter uses it to spray down our dining room table each night after dinner! It doesn't have a smell that's strong or unappealing. It just smells clean! One thing that I've noticed using it compared to other natural cleaners is how it doesn't leave a film on anything. For instance I used to use a different cleaner to clean our floors but it would leave a residue on them. However, I started to use Force of Nature and nothing! No film or residue at all. Even when I had others clean my house they noticed a difference using it compared to other cleaners.
I use it to clean my bathroom toilets inside and all around them, sinks, counters, floors when I mop, really anything! We use 1 bottle a week typically. Maybe more depending on what we clean. Each week we clean our bathrooms with it and mop our floors and also use it to wipe down our counters. Hopefully that gives you an idea of how far it goes with what we're using it on.
Force of Nature Scent
I wanted to address the scent of Force of Nature because I wondered the same thing when I initially got it.
This was taken from their website:
"Force of Nature has zero added fragrances but it does have a light, clean swimming pool scent. The scent is naturally created when salt, water & vinegar are electrolyzed. Hypochlorous acid, the antimicrobial ingredient in Force of Nature, is a type of chlorine (hence the pool scent). Many people don't know that there are different types of chlorine. Hypochlorous acid is actually the same substance your immune system produces to fight infection. And because it's so gentle, it's commonly used in wound healing, eye care & veterinary care products."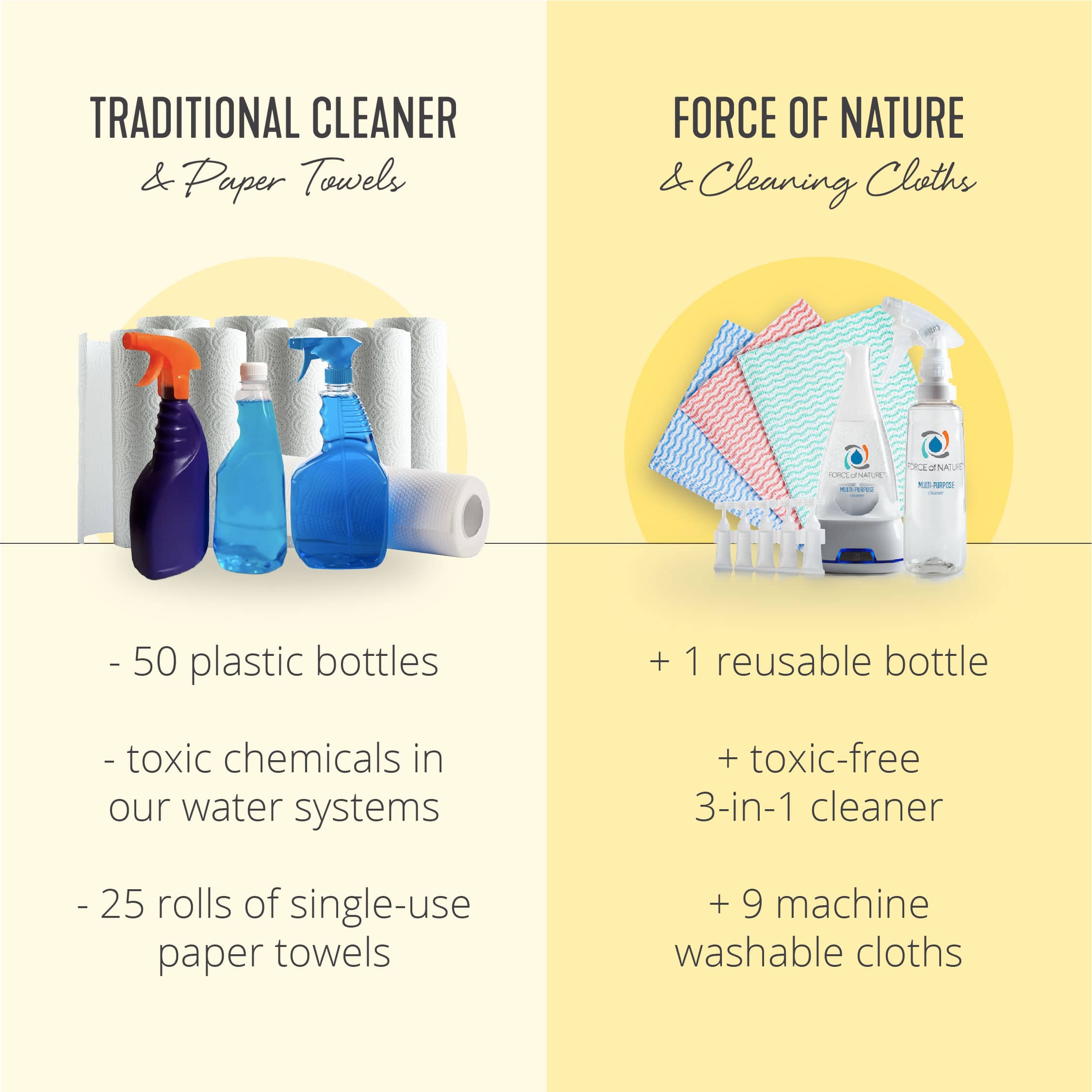 Pros & Cons of Force of Nature Cleaner
Pros
Uses only 3 food grade ingredients
Can be used on really anything to clean and disinfect
Easy to make
Doesn't harm the environment
I love that I don't need different cleaning products for different parts of the house- Force of Nature does it all
Cons
Doesn't last forever. Once the formula is made, you have 14 days to use it until it no longer is active. (Although I've never had a bottle last me that long)
You do have to make the formula, which takes about 10 minutes.
You pay more upfront but in the end it actually is less expensive per ounce compared to conventional or mainstream natural cleaners. (But you can use my coupon code below to save!)
If you liked this post, check out these past posts: